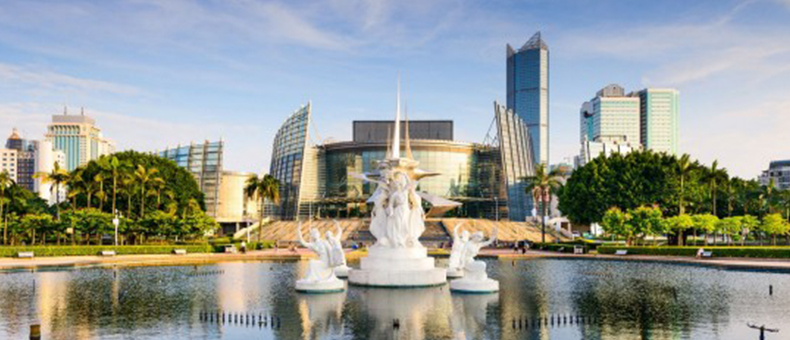 Grundfos plays an important part in the development of Sponge Cities in China. The first concrete outcome is a project realized in Fuzhou to combat pollution.
Serious pollution problems in inland rivers have left their stamp on the urban area of Fuzhou.
That is why pollution control became a top priority in the first implemented Sponge City pilot project. The project includes integrated intelligent Grundfos pump gates, making remote monitoring and dynamic adjustment of water levels possible.
According to Yang Guang, Vice President of Beijing Enterprises Water Group, one of the Sponge City project partners, black and smelly water has always been the biggest challenge of water resources in Fuzhou.
During the launch celebration he said:
"The project delivered this time has provided innovative solutions that will greatly improve the living environment of the residents in Fuzhou, especially the coastal residents."
Important milestone
Helle Meinertz, the Danish Ambassador to China, characterized the project as groundbreaking and an important milestone for the exchange of green technology between China and Denmark.
"It is believed that the rich experience in water treatment technology of Grundfos can provide a valuable reference for China to cope with the challenges of water resources," she said.
Strong media interest
During a Water Summit, arranged in the same week as the celebration of the first pump gate system, a 2018 China Sponge City White Paper, jointly published by Global Water Intelligence, GWI, and Grundfos, was formally released.
The activities caught media attention both regionally and nationally, and in an interview Catherine Yang, Regional Managing Director of Grundfos China, emphasized:
"Grundfos is committed to becoming a powerful partner for construction of Sponge Cities in China. In the future, we will continue to use the technology of Industry 4.0 to integrate the digitization, interconnection and cloud technologies to create intelligent products and solutions, which will help China cope with the challenges of water resources better, and promote the construction of a digital China and beautiful China."
Picture below: The first pump gate system was opened jointly by (from left) Catherine Yang, Grundfos, ambassador Helle Meinertz, Chen Ruishu, Fuzhou government, and Yang Guang, Beijing Enterprises Water Group.